Back to top
plant it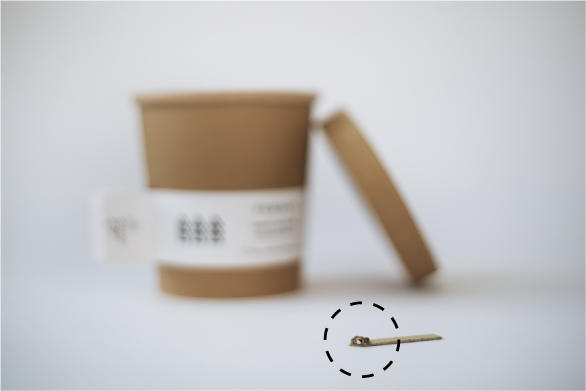 1. Find the seed stick on the underside of the lid. It is glued with organic herb seeds of some of the varieties that we use in our blends.
The organic herb seed mix on each seed stick contains: chamomile, mallow, sage, lemon balm, thyme, and hyssop. 
The glue is natural and ecological. When it gets incorporated to the soil, it benefits seed growth.
Seeds are for planting purposes only. Do not eat them.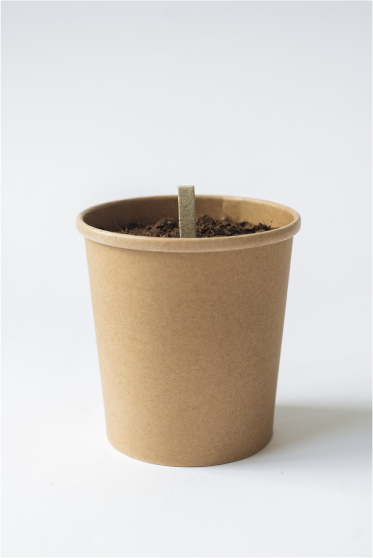 2. Fill the container with soil and embed the seed stick to a depth of 90 mm.
Try to embed the seed stick to the indicated depth and not deeper. Most of the seeds grow in the topsoil.
Water it with a small quantity of water right after you embed the seed stick to the soil.
Place in a warm sunny location.
It is recommended that you do the planting at spring/summer time. Otherwise, during winter, you should plant it indoors close to natural light, avoiding exposure to low temperatures.
Ideal temperature: 18-25°C.
If you want to boost seed growth, you can cover the container with a plastic sheet or membrane which will create a temporary 'greenhouse'.
You can write the planting date on the stick so as to observe the seed growth day by day.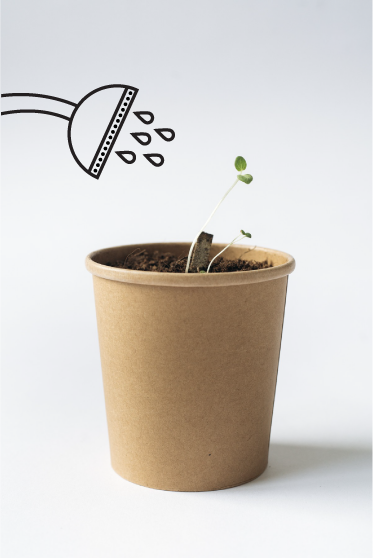 Do not overwater the pot as it can cause seed rotting.
It is recommended that you water the pot with a spray watering can so that the water is allocated evenly.
Early morning and late evening hours are always preferable for watering the plants. Always keep the soil moist.
Seeds will grow in approximately 7-20 days.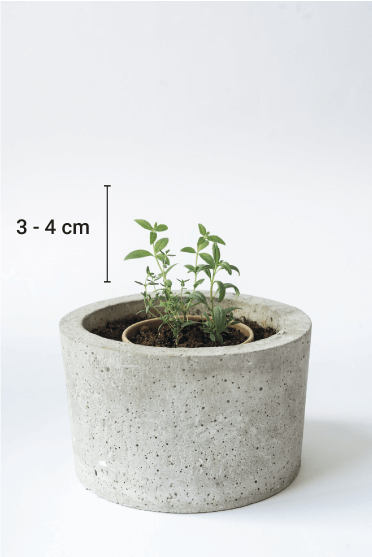 4. When seedlings reach a height of 3-4cm, plant the container in a bigger planter or directly in your garden.
Our container is made of biodegradable material which is compostable. As a result, under suitable conditions of humidity and temperature, it decays, leaving no residues to the soil.
Due to its biodegradable quality, the life cycle of our container after the plantation is quite limited depending on various factors (sun exposure, humidity, temperature). We recommend that you watch the container and plant it to the soil when needed. When seedlings are approximately 3-4 cm high is a good timing.
If you want to learn the whole process of our herbal tea blend making, try to dry your own herbs when they reach harvest period (during blossom is harvest time for most of the herbs). Pick the parts of the plants that are suitable for tea making (leaves, flowers, and stems) and keep them in a dark and ventilated room until they are dry. Then, store them in airtight containers protected from sun light so as they keep their quality characteristics for a longer period.
Seed growth is determined by numerous factors such as sowing depth, light, air, and temperature.
We suggest that you follow the 'plant it' instructions for better results.
Need more info? Contact us and we are happy to help!